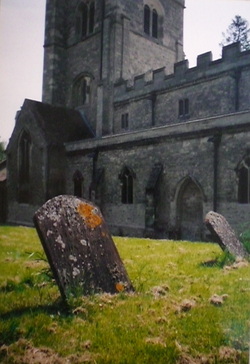 "I glanced down at the program brochure I'd prepared for the service as I continued reading the poem. The picture of Duncan taken at Byblos was on the cover, the poem by Auden on the inside. On the last page was a message from a gravestone beside St. Mary's Church in Crawley Church End, (see photo to the left) the village where we lived. The graveyard was only a short walk from our house and Duncan had spent time there when he was sick. He even considered being buried there.
One day I asked him, "What if I return to Canada to live after this is all over—would you still want to be buried here?"
"No," he replied, "I'd want to be in Canada too, in your family's plot in Ontario. I have no place like that, where all my family is buried together."
Duncan had envied that about me—that I know my family and want to be with them in life and in death.
While I kept his ashes with me for six years, I eventually took him home to Gananoque, on the shores of the Thousand Islands, to be buried with my father, my grandmother, grandfather, great-grandparents, and other ancestors from Ireland (see photo below)—at least one representative from every generation since the first of my family got off the boat in the 1850s."