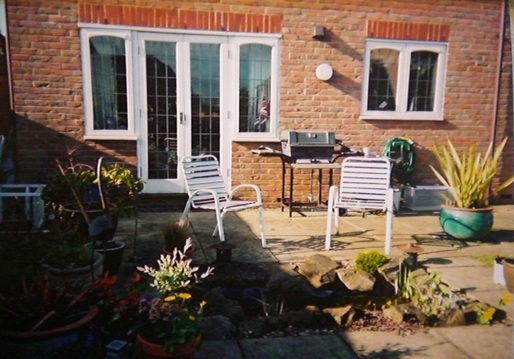 "The sandwiches and tea were served in our garden. I was glad I'd had the small pond dug at the edge of the stone patio at the beginning of the summer. I'd always wanted a pond (photo above). The yellow marsh marigolds and purple water irises were at their peak. The flowering almond tree we'd planted was no longer in bloom, but the leaves were full and dark green. The arbor in the corner of the garden (photo below) was hung with baskets of pink fuschias and partially covered by clematis and night-flowering jasmine. I often came out in the evenings to sit on the wooden bench in its shadow.
The dark pink star lilies Duncan and I had planted the previous autumn were in bloom, and I'd filled the pots on the patio with pale pink, yellow, and mauve annuals. He'd never liked to spend much time outdoors, and had only agreed to help me plant the lilies in hopes that I would appreciate his effort to mend the rips in our marriage. I had appreciated the help, but there'd been too many tears for even the most beautiful flowers to heal.
I sat on my garden patio and talked and drank tea with a couple Duncan had known from their graduate days at Case Western in Cleveland. They thanked me for spending so much time with them, but, in fact, I couldn't bear doing a round of well-meaning small talk with all the guests. I felt the weight of loss crushing me, and the need to grasp at air so I wouldn't faint. I was hiding in plain sight.
After the last guest left, I laid the small dark casket, ashes inside, on the fireplace hearth, along with the two framed pictures from the funeral, and surrounded them all with bouquets of flowers. A shrine. At last, it was over. Finished. The lid closed on that part of my life. I was free.
Of course, at the time, I didn't realize that chains are not broken that easily. The handcuffs were not gone. I couldn't see then that it would take years before I could walk away a free woman, released from what Duncan and I started all those years ago."