​The Full Catastrophe won a Finalist medal in the Next Generation Indie Book awards in the category of "Women's Issues."

The Full Catastrophe was named a
​"Spring Book Pick" by
Redbook Magazine * POPSUGAR * Chico's Inside Chic * San Francisco Book Review * Buzzfeed * The Berry

Featured in: MariaShriver.com * MindBodyGreen * BooksByWomen
​
Recent News:​

I will be giving a talk/workshop on Monday, September 19:
​
Topic
:
The Art of Journaling – Heal by learning to write the story of your lifeFacilitator
: Patricia Gomes, Intuitive Practitioner
Guest Speaker:
Karen Lee, Author, Psychologist
The time of Libra is a creative and inspirational "month" where all signs will feel an urge for expression - whether it be singing, painting or writing. We all have a story. And telling that story helps us heal, gain confidence and overcome our fears. You don't have to be a professional writer to find the scribe within.
Author of the compelling "
The Full Catastrophe: A Memoir,
" Karen Lee will share her story - and she will also share with you her three step approach to journal or memoir writing. There is nothing more cathartic and positive than keeping a journal. Karen will take you a step further. This evening may well surprise you on your journey into self!
Patricia will share popular astrologer Carl Klimuk's predictions for the time of Libra, adding her psychic interpretations on how all signs will be influenced.
Date: Monday, September 19, 2016
Time: 7 – 9:30 pm
Fee: $20 payable at door (cash and cheque)
Location: Bankview Community Hall: 2418 - 17 Street SW
Parking: This is a residential neighborhood. Please don't accidentally block someone's driveway.
Bring: Pen and notebook.
Registration: To RSVP please register by contacting Robbi at 403-816-5085 or email to
edenmotta@mac.com
.
Book Expo America:
​Had an amazing time at the Book Expo America (BEA), held in Chicago from May 10-13, and also at the Next Generation Indie Book Awards ceremony at the Newberry Library.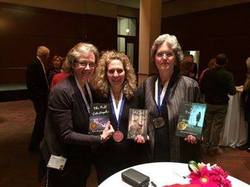 With Jennifer Dwight and Michelle Cox at the Next Generation Indie Book Awards where The Full Catastrophe won a medal in the category of "Women's Issues"

---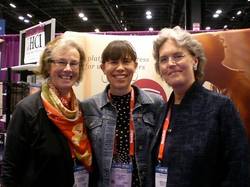 With Brooke Warner, head of She Writes Press and Jennifer Dwight, author of The Tolling of Mercedes Bell, also with She Writes Press, in our booth at the Book Expo America
---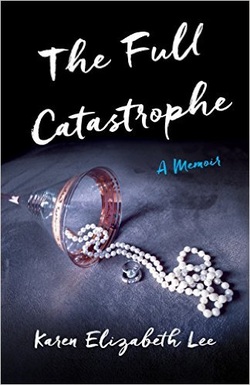 Buzzfeed has named The Full Catastrophe: A memoir #1 of 5 Books to Inspire your Spring Renewal: "In 1998, Karen finally tells her abusive husband of fourteen years, Duncan, that she wants a divorce. But ten months later Duncan is diagnosed with cancer, and before Karen knows it, he's gone. Without Duncan's bullying to keep her distracted, Karen realizes that she has her own demons to face, which she does with the help of dream analysis and Jungian psychology. It will have you wanting to start your own dream journal as you follow Ms. Lee on her journey!"




---