​The Full Catastrophe has won Finalist medals in the Next Generation Indie Book Awards and in the USA Best Book Awards, both for the category of "Women's Issues."
​
"USA Best Book Awards has a ten year track record of honoring and promoting books to the national and international community. The contest is sponsored by USA Book News which covers books from all sections of the publishing industry—mainstream, independent, & self-published."
—The San Francisco Book Review

The Full Catastrophe was named a
​"Spring Book Pick" by
Redbook Magazine * POPSUGAR * Chico's Inside Chic * San Francisco Book Review * Buzzfeed * The Berry
Featured in: MariaShriver.com * MindBodyGreen * BooksByWomen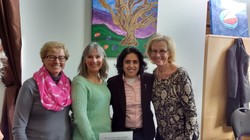 ---
Alberta Skies - Art Exhibition & Book Sale was held
at the Alexandra Writers' Centre new location!
On Saturday, March 4, 2017, artists, writers, poets and musicians met at the new location in Marda Loop - King Edward
Building, Suite 460, 1721 - 29th Ave SW, Calgary, AB T2T 6T7
Local authors were present to talk about and sell their books - This picture shows (LtoR) Susan Calder, Susan Forest, MLA Anam Kazim, and Karen Lee
Awareness of November as Domestic Abuse Prevention month led to many news articles and interviews. The following link is to an article and film clip coverage from the "Breakfast for the Guys" fundraiser, held November 8th, 2016, for the Alberta Council of Women's Shelters:
edmontonjournal.com/news/local-news/alberta-group-touts-importance-of-male-support-to-end-gender-based-violence
​Book Expo America:
​Had an amazing time at the Book Expo America (BEA), held in Chicago from May 10-13, and also at the Next Generation Indie Book Awards ceremony at the Newberry Library.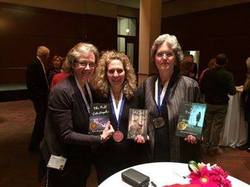 With Jennifer Dwight and Michelle Cox at the Next Generation Indie Book Awards where The Full Catastrophe won a medal in the category of "Women's Issues"

---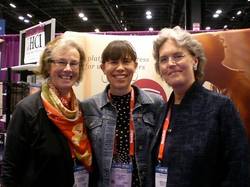 With Brooke Warner, head of She Writes Press and Jennifer Dwight, author of The Tolling of Mercedes Bell, also with She Writes Press, in our booth at the Book Expo America
---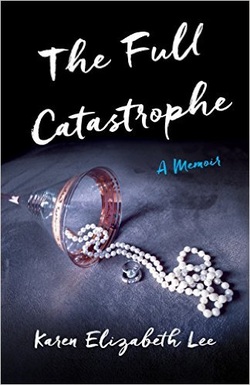 Buzzfeed has named The Full Catastrophe: A memoir #1 of 5 Books to Inspire your Spring Renewal: "In 1998, Karen finally tells her abusive husband of fourteen years, Duncan, that she wants a divorce. But ten months later Duncan is diagnosed with cancer, and before Karen knows it, he's gone. Without Duncan's bullying to keep her distracted, Karen realizes that she has her own demons to face, which she does with the help of dream analysis and Jungian psychology. It will have you wanting to start your own dream journal as you follow Ms. Lee on her journey!"




---