The Full Catastrophe has won a Silver Medal in the Readers' Favorite Medal awards, Finalist medals in the Next Generation Indie Book Awards and in the USA Best Book Awards, both for the category of "Women's Issues" in 2016, a Distinguished Favourite Award in "Women's Issues" in the 2017 Independent Press Awards, a Finalist Award in the International Book Awards 2017 for "Best Non-Fiction Book," and a Finalist Award for the category of "Non-fiction -Relationships" in the Book Excellence Awards.
​
The Full Catastrophe was named a
​"Spring Book Pick" by Redbook Magazine
* POPSUGAR
* Chico's Inside Chic
* San Francisco Book Review
* The Berry
* Buzzfeed
Buzzfeed has named The Full Catastrophe: A memoir #1 of 5 Books to Inspire your Spring Renewal: "In 1998, Karen finally tells her abusive husband of fourteen years, Duncan, that she wants a divorce. But ten months later Duncan is diagnosed with cancer, and before Karen knows it, he's gone. Without Duncan's bullying to keep her distracted, Karen realizes that she has her own demons to face, which she does with the help of dream analysis and Jungian psychology. It will have you wanting to start your own dream journal as you follow Ms. Lee on her journey!"

Featured in:
* MariaShriver.com
* MindBodyGreen
* BooksByWomen
* Jane Davis UK Virtual Book Club
* Next Act for Women
​* Culturalist.com named The Full Catastrophe "One of the Literary Reads that will help you see the world differently"



Book Signing:
​I will be at the Chapters Bookstore, Chinook Centre, Calgary from 12 noon to 4 pm Nov. 4, 2017

At the Alexandra Writers' Centre, Calgary, from the 5-9 November, 2017, I will be doing a week of mentoring and short courses under the title of "Mentoring in the Loop" (Marda Loop). For information, click on this link and scroll down
http://www.alexandrawriters.org/what-we-offer/mentor-in-the-loop/
​Fundraising in Okotoks, Alberta
I was so pleased to be able to help a worthy cause like Rowan House, in Okotoks, Alberta with their fundraiser on Saturday, April 29th, 2017. This was a chance to support the Emergency Shelter and have some fun at the same time! Pictured below are Sherrie Botten, Head of Rowan House, with the Stampede Princesses and me giving the keynote speech. Also, I met Brian Jean, Leader of the Opposition in Alberta, who offered to promote my book. Present also was MLA Mr. Wayne Anderson.
Awareness of November as Domestic Abuse Prevention month led to many news articles and interviews. The following link is to an article and film clip coverage from the "Breakfast for the Guys" fundraiser, held November 8th, 2016, for the Alberta Council of Women's Shelters:
edmontonjournal.com/news/local-news/alberta-group-touts-importance-of-male-support-to-end-gender-based-violence
​Book Expo America:
​Had an amazing time at the Book Expo America (BEA), held in Chicago from May 10-13, 2016, and also at the Next Generation Indie Book Awards ceremony at the Newberry Library.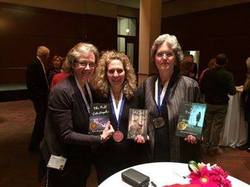 With Jennifer Dwight and Michelle Cox at the Next Generation Indie Book Awards where The Full Catastrophe won a medal in the category of "Women's Issues"

---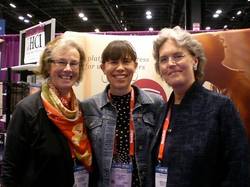 With Brooke Warner, head of She Writes Press and Jennifer Dwight, author of The Tolling of Mercedes Bell, also with She Writes Press, in our booth at the Book Expo America
---