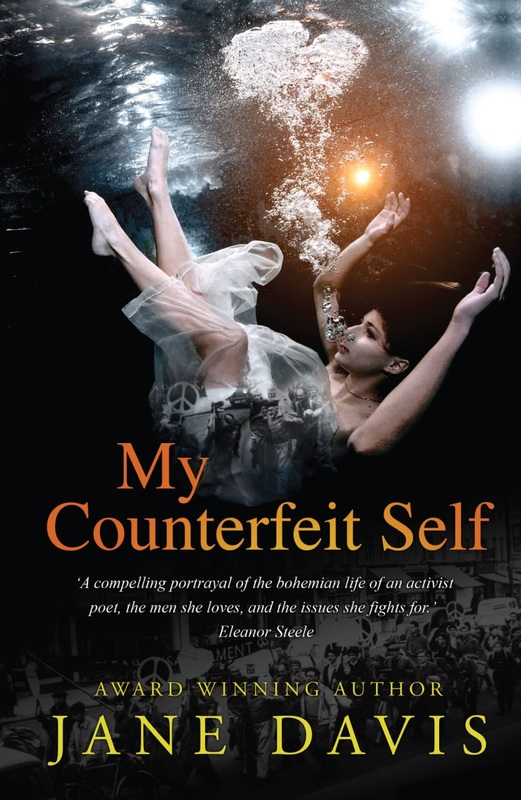 I am delighted to feature Jane Davis, award winning UK author, in my blog today
Jane Davis is the author of seven novels. Her debut, Half-truths and White Lies, won the Daily Mail First Novel Award and was described by Joanne Harris as 'A story of secrets, lies, grief and, ultimately, redemption, charmingly handled by this very promising new writer.' The Bookseller featured her in their 'One to Watch' section. Six further novels have earned her a loyal fan base and wide-spread praise. Her 2016 novel, An Unknown Woman won Writing Magazine's Self-Published Book of the Year Award. Compulsion Reads describe her as 'a phenomenal writer whose ability to create well-rounded characters that are easy to relate to feels effortless.' Her favourite description of fiction is 'made-up truth'. Jane lives in Carshalton, Surrey, with her Formula 1 obsessed, beer-brewing partner, surrounded by growing piles of paperbacks, CDs and general chaos. When she is not writing, you may spot Jane disappearing up the side of a mountain with a camera in hand.
Social Media
Universal book link for eBooks:
https://books2read.com/u/3kZveg
(special pre-order offer of 99p/99c, then £2.99/$3.99) My website:
www.jane-davis.co.uk
(Anyone who signs up to www.jane-davis.co.uk/newsletter receives a free copy of my novel, I Stopped Time.)
Facebook:
https://www.facebook.com/JaneDavisAuthorPage/?fref=ts
Twitter:
https://twitter.com/janedavisauthor
Google Plus:
https://plus.google.com/+JaneDavisAuthor/posts
Pinterest:
https://uk.pinterest.com/janeeleanordavi/boards/
Goodreads:
https://www.goodreads.com/author/show/6869939.Jane_Davis
Amazon Author Page:
http://www.amazon.co.uk/Jane-Davis/e/B0034P156Q/ref=ntt_athr_dp_pel_pop_1
Blurb
'A compelling portrayal of the bohemian life of an activist poet, the men she loves, and the issues she fights for.' Eleanor Steele
A rose garden. A woman with white hair. An embossed envelope from the palace.
Lucy Forrester, for services to literature, you are nominated for a New Year's Honour.
Her hands shake. But it's not excitement. It's rage.
For five decades, she's performed angry poems, attacked government policy on everything from Suez to Trident, chained herself to embassy railings, marched, chanted and held placards high.
Lucy knows who she is. Rebel, activist, word-wielder, thorn in the side of the establishment. Not a national bloody treasure.
Whatever this is – a parting gesture, a final act of revenge, or the cruellest of jokes – it can only be the work of one man. Dominic Marchmont, outspoken literary critic and her on/off lover of fifty years, whose funeral begins in under an hour.
Perhaps, suggests husband Ralph, the invitation isn't the insult it seems? What if Dominic – the man they both loved – has left her an opportunity?
'Completely gripping, excellently written and skilfully put together, I can't recommend My Counterfeit Self highly enough' ~ Isabel Wolff, author of Ghostwritten
From the award-winning author of Half-truths and White Lies, an emotional story of hidden identities, complicated passions and tangled truths.
Jane, you've just won Writing Magazine's Self-Published Book of the Year award. What does being independent mean to you?
It means I'm in complete control, which is daunting and thrilling in equal measures. Having previously been under contract, I was aware how much control authors have to relinquish by authors. I was asked to re-structure Half Truths and White Lies so that big reveal came in the penultimate chapter/ new end chapter. (Whenever I get negative reviews, it's always the reveal and the ending that readers object to, as they describe my original ending to me.) I was given a great cover design, but I couldn't see how it related to the story. And then came the title change. I had called my book Venn Diagrams. It was published as Half-truths and White Lies – in the same year that an erotic novel was published under the same title. When I finally held the book in my hands, it didn't feel as if it was really mine. It was almost as if I was selling someone else's book! But worse was to come. My publisher exercised its right of refusal on my follow-up novel because 'it wasn't women's fiction'. Without any discussion about my writing plans, Half-truths and White Lies had been published under a women's fiction imprint.
It was clear that I wasn't working with people who shared my visions and values.
With self-publishing, I can choose to collaborate with professionals who will help me make the book the very best it can be. That means the edit, the accuracy of the proofreading, the type-setting and the Andrew Candy's fabulous cover designs.
What was your first book and how many books have you published since?
My first novel didn't make it as far as being a book, but it did earn me the services of a literary agent and the words, 'Jane, you are a writer', which sounded far more glamorous than 'Jane, you are an insurance broker'. I'd call that four years well-spent! There was a draft contract from a small publisher, but the small publisher was eaten up by a big publisher before the ink had a chance to dry. I called it After Hilary. In retrospect, I'm rather glad that it was consigned to the bottom drawer reserved for all first novels, because like most first novels it contained semi-autobiographic elements and I'm pretty darned sure they would have come back to bite me. I have published seven novels since then. None of them are remotely autobiographical, but this has never stopped family members from claiming that they recognise themselves.
But you must have autobiographical elements in your work?
The trouble with baring your own soul is that none of us live in isolation. Other people feature in our stories. I read how an author called Maria Bento Fernandes was sued by her husband's family after they claimed she revealed intimate details of their family life in a novel. When she appealed against the original charge of libel, on the basis that hers was a work of fiction, the European Court of Human Rights didn't uphold the original decision, but ruled that the award should stand as the author had 'failed to respect her in-laws' 'right to a private life.' He ordered her to pay them 53,000 EUR. I suspect Christmas at the Fernandes will never be the same again!
So the challenge is always to make it personal – because I think you need to – while maintaining a distance. I remember that when I was writing the book that became Half-truths and White Lies, my middle school was pulled down to make way for a housing estate. Since it was within walking distance of my job, I made a pilgrimage every lunchtime to see the wrecking balls do their work. In the evenings, writing as Peter Church, I described the dismay he felt at discovering that a block of flats had been built on the place where he used to play marbles. He asks himself how it was that his old school was torn apart and he didn't feel a physical wrench.
Similarly, the house that I burn down in the opening scene of An Unknown Woman isn't invented. It's mine. I imagined standing in the road, watching the destruction of my house and everything in it. For my new novel, My Counterfeit Self, I've drawn heavily on my experience as a writer. I've included feelings that I've never spoken about to anyone.
You mentioned your experience of being published under a women's fiction imprint. Do you think traditional genre classifications are too rigid?
I share Joanne Harris's view that 'women's fiction' isn't a genre. All it does is reinforce the idea that books written by women are not for men. At a time when bookshops have been asked to do away with 'boys' fiction' and 'girls' fiction', this category seems outdated, not to mention inappropriate.
It is easy to say what chick-lit, sci-fi, fantasy and erotica are. The difficulty with general fiction is that you can run out of categories before you find one that suits. I'm uncomfortable to bracket my work in the literary category along with classics and Man Booker Prizewinners. Where it's an option (and it isn't always), I tend to opt for 'contemporary fiction'. Although it begins and ends in the present day, My Counterfeit Self is the second of my novels that could also be described as historical.
What's the story behind your latest book?
It's the story of a radical poet activist called Lucy Forrester, who's a cross between Edith Sitwell and Vivienne Westwood. Having been anti-establishment all of her life, she's horrified to find that she's been featured on the Queen's New Year's Honours list. To be honest, the idea of writing about the life of a poet came directly from reader reviews. Several comments that my prose was like poetry. I had no idea if I could actually write poetry but this gave me confidence that I might be able to convince readers that I could see the world as a poet does.
My Counterfeit Self is an intriguing title. What does it mean to you?
Lucy's parents behave so appallingly that, in her late teens, she's freed from any obligation to live up to their expectations. And that's not to say Lucy isn't moral. One of my early reviewers described her as 'fiercely moral', and I thought, yes, she gets her! It's just that Lucy invents her own moral code. She moves out of the family home and decamps to bohemian Soho. In distancing herself from her parents she adopts a new personality that she hides behind. Although she insists that she lays herself bare in her poetry, it's keeping secrets from those who love her most that is her undoing.
You've worked with cover designer Andrew Candy again. What was the concept behind this one?
I chose an image by Sergiy Glushchenko/500px, which has already won an award for underwater photography and when you use an award-winning photograph, you don't want to muck about with it.
The theme of water is repeated in the book, as Lucy swims as part of her physical therapy as she recuperates from Polio. I think the image also suggests her reaction to shock. Then, it reflects the main political cause Lucy writes about. Having always been a CND supporter, she also gets behind the British Atomic Veterans. It struck me that the bubbles in the photograph could be manipulated so that they were in the shape of a mushroom cloud. The idea of the mushroom cloud coming out of the poet's mouth really appealed to me.
We meet Lucy Forrester as a young child. How difficult is it to get inside the head of a nine-year old and convey their consciousness without 'talking down'?
I don't have children of my own but the mother of my godson put to me, 'You only know what comes out of their mouths. You don't know what's going inside their heads.' But, of course, the author does have to know. I remember childhood as a very frightening place, and all of the articles I have read about childhood psychology reinforce that memory. I don't think that a child's mind is uncluttered. They are absorbing any number of new facts daily, and have to give them a context within their limited knowledge, something we as adults have to do less often – although we still experience similar pain barriers, say, learning a new piece of computer software. I hope there's nothing twee about the way that I write children.
As well as all of the usual challenges of childhood, Lucy Forrester suffers from a debilitating childhood illness. Struck down by Polio, she spends the best part of two years recuperating. Although she isn't paralysed, Lucy has that same stubborn determined streak that Roosevelt displayed when he refused to accept the limitations of his disease. The refusal to wear leg braces, to face the world sitting down. She resents overhearing her father say that not much is expected of her, and it makes her want to defy him. It really fascinated me to discover just how many famous people had suffered some form of serious childhood illness. Staring death in the face defines a person. They seem to become driven. You only have to watch the Paralympics to see plenty of examples of just that.
Aside from childhood illness, what things shaped Lucy Forrester?
There's her wonderful governess, Pamela, who responds to her father's comment that she should be encouraged to do a little light reading by having her read the newspapers, and then teaches her the invaluable lesson that just because something's illegal, doesn't necessarily mean it is wrong.
And of course she meets the two men who will become central to her life – Dominic Marchmont who becomes both her literary critic and on/off lover, and the photographer Ralph who provides her with a sort of stability and security that's she's never experienced before. Theirs is the real love story as far as I'm concerned.